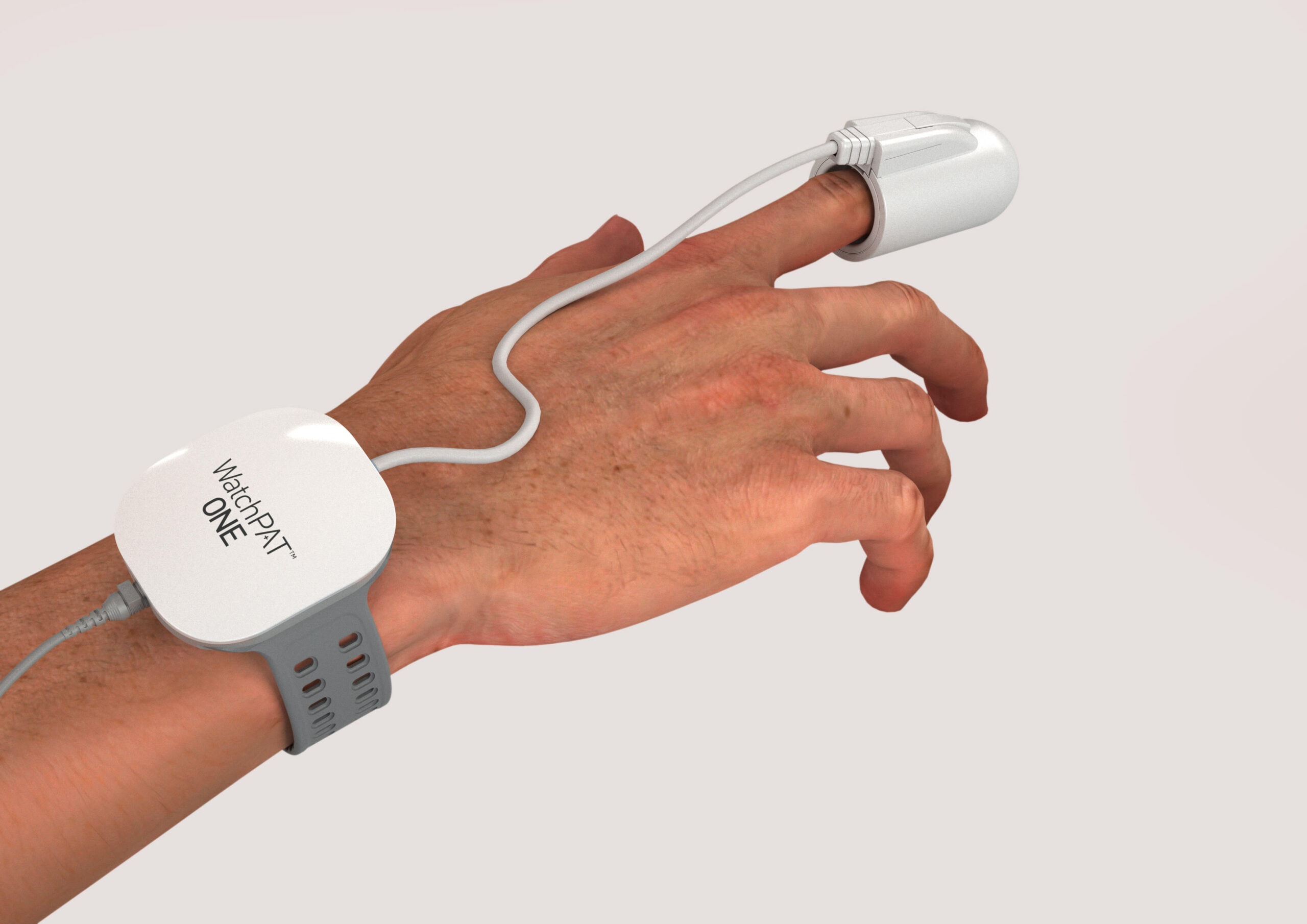 WatchPAT™ One.
The Simple Way to Diagnose Sleep Apnea
WatchPAT™ is an innovative Home Sleep Apnea Test that provides fast, accurate results without leaving the comfort of your own bedroom.
No appointment necessary. After one night of sleep in your own bed, our simple-to-use test can tell us if therapy is right for you.
✅ Health Canada Approved
✅ Single Use Testing Kit
✅ Zero Risk Of Infection
✅ Complimentary Recycling
Who Can Use the WatchPAT™ One?
Adults age 18 or over with undiagnosed sleep apnea who don't want to take time away from work for a clinic visit or spend the night away from home in a sleep lab.
Anyone experiencing unexplained symptoms of sleep apnea such as: snoring, morning headaches, memory impairment, chronic fatigue or daytime sleepiness.
Caregivers who have children or elderly parents at home. Truck drivers, pilots and police officers who require a sleep study. Or anyone waiting for a sleep apnea diagnosis that cannot wait for clinic or sleep lab backlogs.
Anyone seeking a more comfortable and convenient experience. It is easier to get a good night's sleep in your own home.
Sleep Testing Made Simple
With no lab visits or clinic appointments, our secure, online process gets you diagnosed and on your way to better sleep faster without the hassle.
Fill out the online form or hit the call button below.

Consult with a member of our Care Team.

Your test is delivered to your door.

Take the test at home.

Your sleep coach will provide your results in-clinic or by virtual appointment.
That system is really easy to use. Wish all tests were that simple.
Please Note: This testing kit is intended for the testing of suspected sleep apnea in adults that DO NOT have comorbid conditions. If you suffer from heart failure, COPD, or neuromuscular disorders it is recommended that you consult a sleep physician about testing done in a lab setting of a sleep disorder centre.
If you are not sure if you would be a good candidate give us a call at 1-877-782-0797.
*WatchPAT One device is not currently available in AB. Please call for more information and pricing in your region.